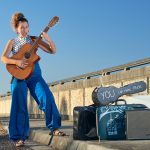 I sit in the lovely studio apartment of Anita: who has gone off into the wilds of Cooma on a roadtrip of her own. She'll be back in a few days, when I will need to perform the housesitter-confession in regards to the demise of her love fern (alas ferns are so very thirsty!) and two beautiful whiskey glasses I had left on the window sill and hadn't survived the random southerly that smashed them into the sink at 4am on a Wednesday morning. Her beautiful 80s second floor abode is strangely private and spacious due to its above carport location and large windows to the East and South. The Easterly window looks over Yaya Neighbour, who feeds the pigeons last night's pasta and has a pet Galah. She listens to the Sunday mass in Greek for 3 hours on the radio. She had her skirt tucked into her underpants as she hung the washing yesterday. I try not to look into her garden, but the little pigeons are cute and her pomegranates are golden. Her phone goes off every 20 minutes and has a melody and an old school ring to it and when she answers, she sounds angry, although I don't think she is. She is just very, very passionate.
I'm stopping and taking stock of my Suitcase project today…
These are some of the one-off and ongoing Suitcase projects I have started so far:
1. An Inclusive Music Jam event in Lismore with Param. This has plans to turn into a regular event with Param, Lydia and Ravin.
2. A new garage band in Armidale with Phil and Marty.
3. A new songwriting group in Newcastle with Anousha, Maddy and Carrie.
4. Cabaret Collaboration: "Handle with Care" with Anousha and Maddy in Newcastle
5. Cabaret Collaboration: #empathyrevolution with Matt and Jay in Melbourne and Bellingen
6.Cabaret Collaboration: #Kickthebucketontheroad with Nicola Bell in Melbourne and Brisbane
7. Cabaret Collaboration: #FUBettiesinyourtown Northern Rivers, NSW set for action in April, shows in May
8. Cabaret Collaboration: #ThePatronSaintsofDisappointment with Kylie and Jan Melbourne and Brisbane
9. Community capacity building with Cate: started a "Ain't Dead Yet Female Musicians" group for late-blooming female-identifying musicians to support each other to develop skills and strategies to take up musical space in Melbourne.
10. Online songwriting collaboration #Iheartcanberra with Clare, Ellen, Greg, Kate, Alex, Genevieve and Erin in Canberra and Melbourne.
11. Cabaret Collaboration: #Monsters with Heidi in Melbourne.
12. Suitcase Incidental Madrina (Fairy Godmother) Actions so far include lifts to and from airports, schools and hospitals, babysitting, meals, inspiration adventures and philosophical discussions; drumkit rehousing project, photo/film assisting and life event planning and Accomplic-ing. These are all things that I never have time to do when I am working and trying to pay rent.
These are some of the beautiful people who have hosted me in their homes so far over the last 6 months: big love out to those sharing their home with me, as it has made my project thus far possible <3
Chiara and Aaron in Canberra, ACT
Margaret and Bill in Canberra, ACT
Bron and Thommo in Canberra, ACT
Kirrin and family in Canberra, ACT
Pia and Story in Sunshine Beach, QLD
Penelope in Lismore, NSW
Rae in Suffolk Park, NSW
Shelly and Dan in Lennox, NSW
Phil and Penny in Armidale, NSW
Mains in Tamworth, NSW
Jay, Jeannie and Des in Coffs Harbour, NSW
Maddy and family in Newcastle, NSW
The Jubbs in Rosedale, NSW
Nellie, Mischa and Marty in Brunswick, VIC
Anita in Northcote, VIC
Jemma and Jules in Northcote, VIC
Not counting incidental trips, I have driven 4,504 Km in between my main destinations so far. (If anyone has any idea of how I can gain some form of petrol-patronage, let me know!)
And drunk about 23 Nippy's Ice Coffees. And one Mocha. I won't make that mistake again.